About Rescued Treasures
Rescued Treasures is an entirely volunteer-run resale store that directly benefits that Humane Society of Putnam County. All merchandise is donated by community members or local businesses. Our volunteers sort all donated items to ensure high quality of merchandise and fair pricing.
Rescued Treasures pays for its own rent and utilities, and all leftover funds go toward Humane Society programming. Come visit Rescued Treasures and support the Humane Society! Store hours and contact information are listed to the right →
Featured Items
Rescued Treasures has a constant supply of wonderful, high quality merchandise. Often, we receive donated merchandise so wonderful that it surprises even us. To stay informed on our most recent featured items, please check out the Rescued Treasures Facebook Page. While you're there, make sure you "Like" the Rescued Treasures page as well as the Humane Society of Putnam County Facebook Page! If Facebook isn't your cup of tea, feel free to stop in any time during our store hours or call us!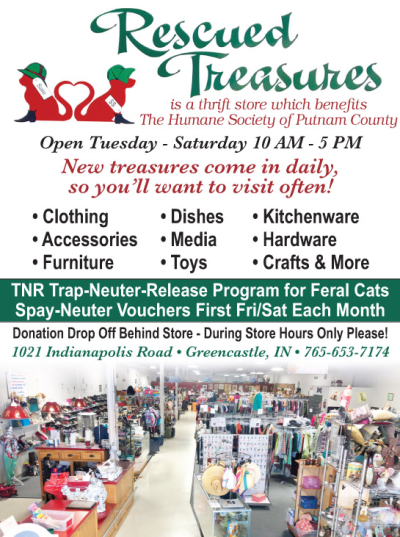 Please note changes to store hours due to COVID-19:
Tue, Wed, Fri: 10 AM – 5 PM, Saturday: 10 AM – 2 PM
Sun, Mon, & Thurs: CLOSED